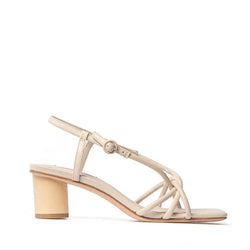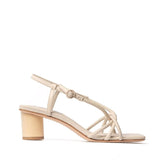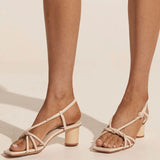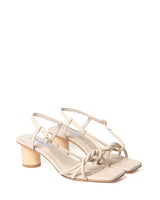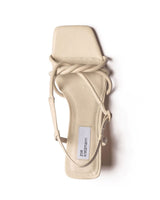 Zoe Kratzmann Preen Heel - Plaster
The preen heel from Zoe Kratzmann channels an elegant yet everyday appeal. With its fine, padded straps it is minimal and flattering on the foot. A circular wood heel lends an earthy element and at just 6cm in height it is the perfect choice for every day. 
 Features:
leather upper
leather lined
leather sole
6cm heel height
Care: 
to protect your footwear we recommend applying an all protector spray before wear, covering any embellishments during application. 
reapply to replenish and maintain your leather shoes as required and instructed. 
use a damp cloth and water to spot clean as required. please note leather is a natural material that has unique variations in colour and texture. 
zoe kratzmann footwear is crafted from high quality leathers in a variety of finishes, some of which may soften and or fade over time providing you with ultimate comfort and the perfect fit.
i am passionate about creating desirable, unique goods... bringing a little bit of luxury to the everyday. from an early age i was sewing clothes, painting and "making things". in high school i would sew bikinis for myself and girlfriends, finger paint murals on my bedroom walls and make huge, crazy ear-rings out of paper clips! thankfully my creativity has evolved and my design focus is about creating pieces that are functional, beautiful and have longevity... from both a design aesthetic and quality point of view.
i believe that "getting dressed" represents an opportunity to express yourself and in a small but significant way to do something for yourself... to feel good about yourself. something we should all do every-day!
Want to know more? We understand how tricky online shopping can be...... and what looks great on a size 4, 10 foot amazon lady model doesn't always convert to real bodies. So what we can offer are some real bodies.  We are a small team of mums and a token hot grandma and range from size 6 - 22.
If you're second guessing a fit, one of us will be in your size range and can try it on and send you photos. Let us know what you are looking for in a garment and we can give you direction with cuts and styling to best suit your needs.
Not sure? We don't want you to be left with anything you don't 100% love, live in and rave to your friends about. So if it's not quite right send it back. We will look after you and offer quick exchanges or full refunds for all online purchases. Happy customers mean the world to us. 
The struggle: We understand that everybody's different and we get the battles that go along with finding longer length sleeves and pants for tall ladies. On the shorter side we understand how it is trying to find tops that aren't too long. We know these struggles well; let us do the ground work for you by providing some curated options for your needs. This is our thing and we love doing it! Please reach out and get in touch, we would love to provide you with real and customised service to save you time and meet your needs. 
Contact us: 
e: enquiries@eclectichouse.com.au
t: 02 6721 0370
We are also size inclusive, offering embrace/plus size clothing up to size 26 and petite sizes too - XXXS / size 4 in ladies.