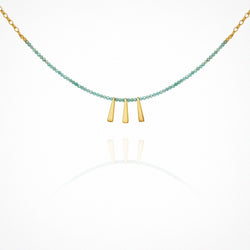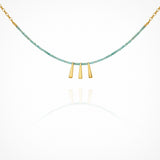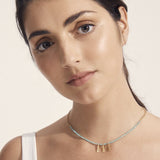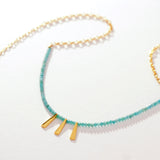 Temple of the Sun Naxos Necklace - Amazonite Gold
The Naxos Necklace, in polished 18k Gold Vermeil, is a delicate, modern design. This gold necklace draws on the dramatic sunsets off the Portara of Naxos. Three delicate golden rays emanate from a string of faceted Amazonite beads suspended from a polished gold rollo chain. Like waters deep and ancient, Amazonite beckons in captivating shades of turquoise-green, promising to soothe the spirit and calm the soul. The Naxos Necklace calls us to be calm.. and to bathe in the light of hope, peace and harmony.
Stone Properties 
Amazonite is a soothing stone. It calms the brain and the nervous system aiding in the maintenance of good health through the balancing of the masculine and feminine energies within us. Amazonite helps you to see both sides of a problem or to adopt a different point of view, encouraging empathy and compassion. It also soothes emotional trauma, providing harmony and balance. 
Temple Jewellery
All of Temple of the Sun's Jewellery is hand-made according to the highest quality and our craftsmen are certified to meet global standards of environmental and social responsibility. Each piece of jewellery comes in its own luxury Temple of the Sun wallet with one gift box per order.
 Dimensions
LENGTH: 42cm
EXTENSION: 10cm
PENDANT: 3.5mm Width x 15mm Height x 3
Materials
Temple of the Sun's Gold Vermeil jewellery is hand-made from ethically sourced 925 Silver, finished with a high quality 2.5 Micron thick layer of 18K Gold plate ensuring the rich gold lustre is retained longer.
Want to know more? We understand how tricky online shopping can be...... and what looks great on a size 4, 10 foot amazon lady model doesn't always convert to real bodies. So what we can offer are some real bodies.  We are a small team of mums and a token hot grandma and range from size 6 - 22.
If you're second guessing a fit, one of us will be in your size range and can try it on and send you photos. Let us know what you are looking for in a garment and we can give you direction with cuts and styling to best suit your needs.
Not sure? We don't want you to be left with anything you don't 100% love, live in and rave to your friends about. So if it's not quite right send it back. We will look after you and offer quick exchanges or full refunds for all online purchases. Happy customers mean the world to us. 
The struggle: We understand that everybody's different and we get the battles that go along with finding longer length sleeves and pants for tall ladies. On the shorter side we understand how it is trying to find tops that aren't too long. We know these struggles well; let us do the ground work for you by providing some curated options for your needs. This is our thing and we love doing it! Please reach out and get in touch, we would love to provide you with real and customised service to save you time and meet your needs. 
Contact us: 
e: enquiries@eclectichouse.com.au
t: 02 6721 0370
We are also size inclusive, offering embrace/plus size clothing up to size 26 and petite sizes too - XXXS / size 4 in ladies.