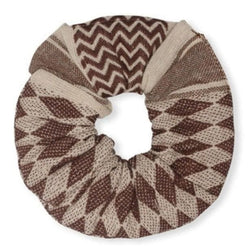 Summery Copenhagen Mio Scrunchie - Chocolate
Mio Scrunchie comes in fun patterns and summery colours and features an elastic insert for adjustable fit. No more bad hair days!
Fabric: Woven from 100% Cotton, non-stretchy fabric

A label built around the romantic freedom of endless, summer nights — and the softness of daydreaming on a sun-drenched afternoon.  SUMMERY Copenhagen's designs have always been an ode to summer. And now, so is their name. SUMMERY Copenhagen (previously Cecilie Copenhagen) is guided by intuition and will, taking pride in their autonomy and the liberty that comes with not following the rules. They are a label who believes in free spirited women, with the aim of their creations to ensure all women feel confident, capable, and at ease while wearing their favorite SUMMERY Copenhagen design.
Only handloom fabrics are used in their designs, ensuring a better, stronger, and more durable cotton quality. Each piece is prewashed and designed to be enjoyed year after year.
SUMMERY Copenhagen's mission is to be a creative, progressive, and environmentally thoughtful company and the production of sweat wear, swimwear, and knitwear is from either fully organic or recycled materials; SUMMERY Copenhagen aren't making simple commitments but rather striving to be the best they can be.