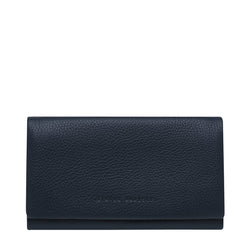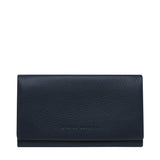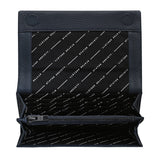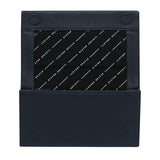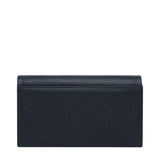 Status Anxiety Nevermind Wallet - Navy Blue
Great word 'Nevermind'. Use it in a stressful situation and it makes you sound kind of relaxed. The Nevermind wallet will also make you look kind of relaxed as you fling the front flap closed in a nonchalant manner and the double magnet closure takes care of the rest. The Nevermind wallet also happens to be one of our most slim full function wallets.
Fabrication: Full-grain soft shrunken leather
8 card slots (slots can be doubled up to fit 16)

Internal zipper zone and open pockets to stash your phone etc.
Premium matte black custom hardware
190 x 110 x 28mm
Comes in a recycled matte grey, copper foil Status Anxiety box
Flat base and wide opening for easy visibility/access to your cosmetics

Water and stain proof lining Internal zipper pocket for stashing smaller stuff
21cm long x 8cm wide x 12.5cm high
Comes in Status Anxiety soft material drawstring bag
Natural Pebble Leather

This soft Brazilian Shrunken Pebble leather has a luxuriously soft hand feel and features the natural variation of the leather characteristics and grain. We recommend using a leather protectant to provide extra protection from staining and water damage.
Leather Care
We recommend using our Leather Protectant to prevent staining and to lengthen the life of your gear.
Wipe your leather with a damp cloth (warm soapy water) every couple of months to keep your leather looking its best (don't use baby wipes, vinegar, etc.) Try to avoid greasy hands (or recently applied hand cream) coming into contact with your leather. Avoid excessive rubbing of light leather on dark clothing (jeans etc) to avoid colour transfer onto the leather.
It's also best to avoid leaving leather for long periods in direct sunlight as it can cause the colour to fade and the leather to dry out. When not in use, keep your bag stuffed in its dust bag or box.
A warm welcome to all of our USA shoppers!
If you live in the USA and are shopping online with us, you may have some questions relating to placing your order and having it delivered internationally.  We've put together a list of frequently asked questions below, but please don't hesitate to get in touch with us if we can help in any other way!
Can I pay in US dollars?
Yes, our products should automatically display prices in USD, but if not, on your desktop you can change the currency by clicking the drop-down currency selector at the top left of the screen.
How much will I pay for shipping?
We have a flat rate of $24USD for any order being delivered to the USA.
How long will my order take to arrive?
Your order will be processed and dispatched within 2 business days using our national postal service Australia Post.  You will be emailed a tracking number when your order is sent.  Transit times vary but will usually take 7 - 14 days to reach you.
If my item isn't quite right, can I return it for a refund or exchange?
Yes!  If your item isn't as you expected, you may return it to us for a refund or exchange based on all of the following conditions being met:

 Your return is initiated within 7 days of receiving your order.
 Your return is sent back within 7 days of being approved.
 Item/s are in original condition (unworn and unwashed with all tags attached).
 A return authorisation has been approved by an EH team member via email.
 Proof of purchase is accompanied with the returned merchandise.
 The shipping cost to return item is payable by the customer.
Submitting a Return
 Please submit your return request via email to enquiries@eclectichouse.com.au
 Once approved, send the item(s) back to us with a copy of your approval
email, proof of purchase and clear reference to your order number at the following address:
ECLECTIC HOUSE RETURNS
74 OTHO STREET
INVERELL, NSW 2360
AUSTRALIA
PH: 02 6721 0370
Thank you for choosing Eclectic House!
Want to know more? We understand how tricky online shopping can be...... and what looks great on a size 4, 10 foot amazon lady model doesn't always convert to real bodies. So what we can offer are some real bodies.  We are a small team of mums and a token hot grandma and range from size 6 - 22.
If you're second guessing a fit, one of us will be in your size range and can try it on and send you photos. Let us know what you are looking for in a garment and we can give you direction with cuts and styling to best suit your needs.
Not sure? We don't want you to be left with anything you don't 100% love, live in and rave to your friends about. So if it's not quite right send it back. We will look after you and offer quick exchanges or full refunds for all online purchases. Happy customers mean the world to us. 
The struggle: We understand that everybody's different and we get the battles that go along with finding longer length sleeves and pants for tall ladies. On the shorter side we understand how it is trying to find tops that aren't too long. We know these struggles well; let us do the ground work for you by providing some curated options for your needs. This is our thing and we love doing it! Please reach out and get in touch, we would love to provide you with real and customised service to save you time and meet your needs. 
Contact us: 
e: enquiries@eclectichouse.com.au
t: 02 6721 0370
We are also size inclusive, offering embrace/plus size clothing up to size 26 and petite sizes too - XXXS / size 4 in ladies.