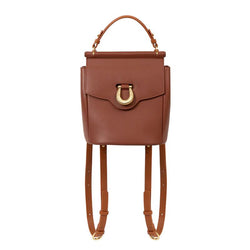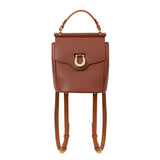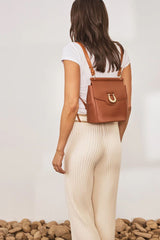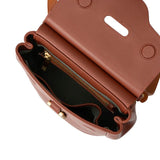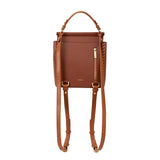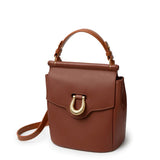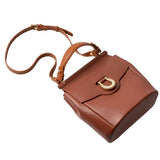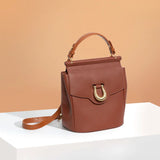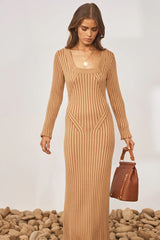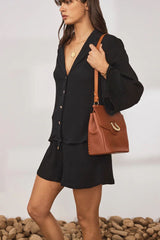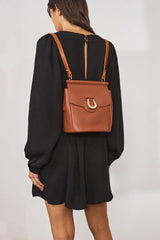 Sancia Juna Back Pack- Coconut
The Juna backpack / tote from Sancia is perfect for days when you want to keep your hands free - think shopping trips and holidays. It's made from full-grain leather and can be worn three ways: as a back-pack or with the top handle only, or with the adjustable shoulder strap as tote style bag. It has a zipper closure and plenty of space inside for your everyday essentials.
Fabrication: 100% full grain Nappa leather
Features:
Handcrafted luxury design
Brushed gold custom SANCIA hardware

Firm structure
Removable & adjustable shoulder straps
Removable top strap
Roomy interior
Front flap with buckle & invisible magnet closure
100% OEKO-TEX Linen lining
1 x external zip pouch compartment
1 x internal zip pouch compartment
1 x internal pocket compartment
100% TencelTM

 

SANCIA tote included
Delivered in SANCIA gift box with gold foil logo
Measurements:
Height: 24.5cm / 9.65"
Length: 20cm / 7.9"
Depth: 12.5cm / 4.9"
Shoulder strap drop longest length: 60cm /23.6"
Shoulder strap drop shortest length: 48cm / 18.9"
A warm welcome to all of our USA shoppers!
If you live in the USA and are shopping online with us, you may have some questions relating to placing your order and having it delivered internationally.  We've put together a list of frequently asked questions below, but please don't hesitate to get in touch with us if we can help in any other way!
Can I pay in US dollars?
Yes, our products should automatically display prices in USD, but if not, on your desktop you can change the currency by clicking the drop-down currency selector at the top left of the screen.
How much will I pay for shipping?
We have a flat rate of $24USD for any order being delivered to the USA.
How long will my order take to arrive?
Your order will be processed and dispatched within 2 business days using our national postal service Australia Post.  You will be emailed a tracking number when your order is sent.  Transit times vary but will usually take 7 - 14 days to reach you.
If my item isn't quite right, can I return it for a refund or exchange?
Yes!  If your item isn't as you expected, you may return it to us for a refund or exchange based on all of the following conditions being met:

 Your return is initiated within 7 days of receiving your order.
 Your return is sent back within 7 days of being approved.
 Item/s are in original condition (unworn and unwashed with all tags attached).
 A return authorisation has been approved by an EH team member via email.
 Proof of purchase is accompanied with the returned merchandise.
 The shipping cost to return item is payable by the customer.
Submitting a Return
 Please submit your return request via email to enquiries@eclectichouse.com.au
 Once approved, send the item(s) back to us with a copy of your approval
email, proof of purchase and clear reference to your order number at the following address:
ECLECTIC HOUSE RETURNS
74 OTHO STREET
INVERELL, NSW 2360
AUSTRALIA
PH: 02 6721 0370
Thank you for choosing Eclectic House!
Want to know more? We understand how tricky online shopping can be...... and what looks great on a size 4, 10 foot amazon lady model doesn't always convert to real bodies. So what we can offer are some real bodies.  We are a small team of mums and a token hot grandma and range from size 6 - 22.
If you're second guessing a fit, one of us will be in your size range and can try it on and send you photos. Let us know what you are looking for in a garment and we can give you direction with cuts and styling to best suit your needs.
Not sure? We don't want you to be left with anything you don't 100% love, live in and rave to your friends about. So if it's not quite right send it back. We will look after you and offer quick exchanges or full refunds for all online purchases. Happy customers mean the world to us. 
The struggle: We understand that everybody's different and we get the battles that go along with finding longer length sleeves and pants for tall ladies. On the shorter side we understand how it is trying to find tops that aren't too long. We know these struggles well; let us do the ground work for you by providing some curated options for your needs. This is our thing and we love doing it! Please reach out and get in touch, we would love to provide you with real and customised service to save you time and meet your needs. 
Contact us: 
e: enquiries@eclectichouse.com.au
t: 02 6721 0370
We are also size inclusive, offering embrace/plus size clothing up to size 26 and petite sizes too - XXXS / size 4 in ladies.