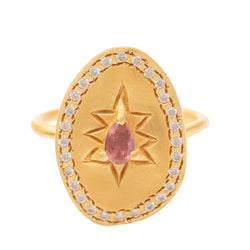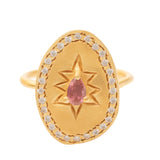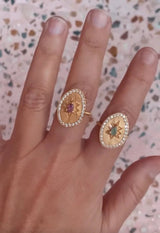 Ruby Design Pink Tourmaline & Cubic Zirconia oval ring
This beautiful Pink Tourmaline & Cubic Zirconia Oval Ring by Ruby Design is the perfect statement ring for this summer.
All  Ruby Design jewellery are made with high quality sterling silver, genuine 22k gold plate and semi precious stones. Please treat your pieces with the kindness they deserve to enjoy for years to come.
Care: Avoid contact with liquids and chemicals such as seawater, perfume, sweat and skincare products, as these can damage your pieces over time and may cause temporary discolouration.
 Humidity and exposure to strong sunlight can cause tarnishing. We recommend polishing your sterling silver pieces regularly to maintain lustre.
Want to know more? We understand how tricky online shopping can be...... and what looks great on a size 4, 10 foot amazon lady model doesn't always convert to real bodies. So what we can offer are some real bodies.  We are a small team of mums and a token hot grandma and range from size 6 - 22.
If you're second guessing a fit, one of us will be in your size range and can try it on and send you photos. Let us know what you are looking for in a garment and we can give you direction with cuts and styling to best suit your needs.
Not sure? We don't want you to be left with anything you don't 100% love, live in and rave to your friends about. So if it's not quite right send it back. We will look after you and offer quick exchanges or full refunds for all online purchases. Happy customers mean the world to us. 
The struggle: We understand that everybody's different and we get the battles that go along with finding longer length sleeves and pants for tall ladies. On the shorter side we understand how it is trying to find tops that aren't too long. We know these struggles well; let us do the ground work for you by providing some curated options for your needs. This is our thing and we love doing it! Please reach out and get in touch, we would love to provide you with real and customised service to save you time and meet your needs. 
Contact us: 
e: enquiries@eclectichouse.com.au
t: 02 6721 0370
We are also size inclusive, offering embrace/plus size clothing up to size 26 and petite sizes too - XXXS / size 4 in ladies.