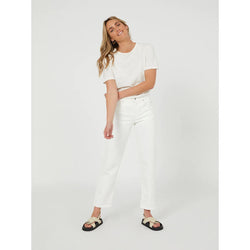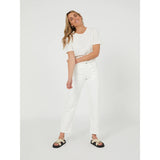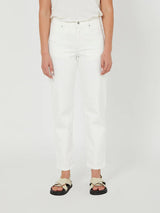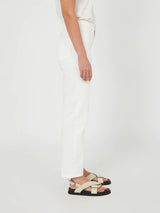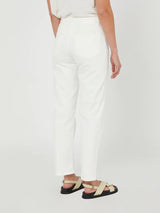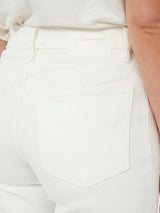 Outland Denim Athina Jeans - Slight
The Athina jean from Outland Denim is the only boyfriend (fit) you'll ever need. We've designed this style to be the height of denim comfort, this shape is relaxed and straight-cut through the leg for a drape and fit that you can wear all day. Made with our super-luxe organic cotton, this jean grows softer and more comfortable with every wear.

With a mid, 9.5" rise, Athina is designed to be worn low-slung on the hips. Keep them rolled hem as is for a 26" inseam, or wear unrolled for a 29" inseam.
Fabric: 98% Organic Cotton 2% Elastane
Fit:
True to size, we recommend taking the size you would usually wear in denim
Boyfriend fit
Comfort Stretch - Trustworthy feeling denim with just enough stretch for comfort and movement. This style will feel firm but comfortable on first wear, and will naturally, subtly relax to your body with wear.
Mid-rise (9.5"), 29" inseam, button fly closureValentina wears a size 26/S. She is 175cm (5′9″) in Height, with a 84cm (33") bust, 66cm (26") waist, and 91cm (36") hip.
Outland was founded on high ground - both ethically and geographically. Born on an Australian mountain top and made with the makers in mind, our origins are with a guy named James who conceived a plan to give jobs to young women who desperately needed them circa 2011.
Fast forward a few years and James is sitting uptop a cafe in Cambodia with some bolts of denim, scissors and cardboard cutouts figuring out how to piece together a top-notch pair of jeans. All the while people were telling him he was mad because FASHION is a terrible industry to be in.
As it turns out, those people were right. Fashion IS a terrible industry to be in - it's mostly wasteful, hazardous to human health, fuelling environmental degradation and perpetuating human exploitation. The EXACT reason James got into the business in the first place!
But being a stubborn kind of bloke, James pressed on because sometimes you have to be the Robin Hood in a land of thieves; the last biscuit in the cookie jar; the sun breaking through on an overcast day.
An enduring penchant for good jeans and a cowboy heartbeat eventually culminated into the growing collection of effortless, timeless and coveted denim that you see here today.
As a result of more enlightened customers (like you!), we have been able to realise our mission of giving work to victims of human trafficking. This has placed Outland at the forefront of sustainability and global citizenship in the fashion industry. Yet there is still much more to do...
Wash, rinse and repeat this denim until you give them to your daughter/son/cousin/niece/nephew/friend in need. Or at least until you need a different style. It's a pair that spares the earth and elevates the women who artfully craft each garment, all while making you look pretty damn good.
Want to know more? We understand how tricky online shopping can be...... and what looks great on a size 4, 10 foot amazon lady model doesn't always convert to real bodies. So what we can offer are some real bodies.  We are a small team of mums and a token hot grandma and range from size 6 - 22.
If you're second guessing a fit, one of us will be in your size range and can try it on and send you photos. Let us know what you are looking for in a garment and we can give you direction with cuts and styling to best suit your needs.
Not sure? We don't want you to be left with anything you don't 100% love, live in and rave to your friends about. So if it's not quite right send it back. We will look after you and offer quick exchanges or full refunds for all online purchases. Happy customers mean the world to us. 
The struggle: We understand that everybody's different and we get the battles that go along with finding longer length sleeves and pants for tall ladies. On the shorter side we understand how it is trying to find tops that aren't too long. We know these struggles well; let us do the ground work for you by providing some curated options for your needs. This is our thing and we love doing it! Please reach out and get in touch, we would love to provide you with real and customised service to save you time and meet your needs. 
Contact us: 
e: enquiries@eclectichouse.com.au
t: 02 6721 0370
We are also size inclusive, offering embrace/plus size clothing up to size 26 and petite sizes too - XXXS / size 4 in ladies.