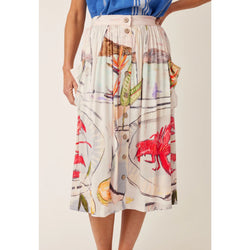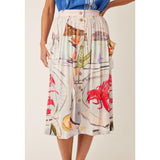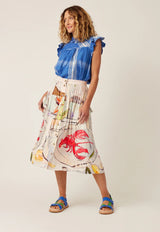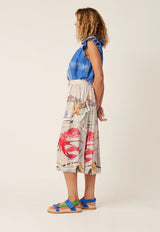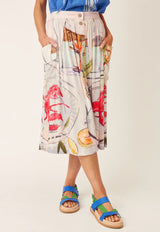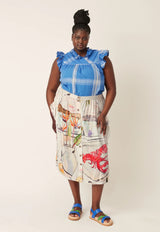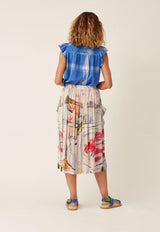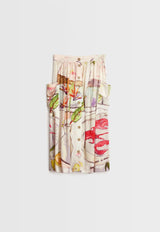 Nancybird Adi Button Skirt - Archways
Made of textured Lenzing fabric, this midi skirt from Nancybird  is gathered at the waistband to give it an extra flattering shape. Featuring this season's artwork by Louis Wayling.
Nancybird have collaborated with artist Louis Wayling in this capsule collection.
Louis Wayling is a northern NSW artist whose colour-filled paintings explore the Australian natural world of fauna and flora in colourful, large-scale landscapes. The two artworks in this capsule range show a banquet of seaside feasts, coastal foliage, shells and jewels of the sea.
Fabrication: 70% Lenzing Viscose 30% Lenzing Tencel 
Features:
Gathered waist, with elastic at back for fit flexibility
Pockets with featured closure
Button-through placket
Fit:
Emma with short blonde wavy hair is 175cm tall and wears size 10
Nyapal with hair in a bun is 183cm tall and wears size 20
Nancybird's collections of handmade bags, purses, footwear and apparel are designed for longevity by a global network of craftspeople and artisans. 
Nancybird considers the environmental impact of every piece they create and celebrate the hands that make them.  Nancybird's intrepid collections inspire women to authentically articulate their creative identity.
Want to know more? We understand how tricky online shopping can be...... and what looks great on a size 4, 10 foot amazon lady model doesn't always convert to real bodies. So what we can offer are some real bodies.  We are a small team of mums and a token hot grandma and range from size 6 - 22.
If you're second guessing a fit, one of us will be in your size range and can try it on and send you photos. Let us know what you are looking for in a garment and we can give you direction with cuts and styling to best suit your needs.
Not sure? We don't want you to be left with anything you don't 100% love, live in and rave to your friends about. So if it's not quite right send it back. We will look after you and offer quick exchanges or full refunds for all online purchases. Happy customers mean the world to us. 
The struggle: We understand that everybody's different and we get the battles that go along with finding longer length sleeves and pants for tall ladies. On the shorter side we understand how it is trying to find tops that aren't too long. We know these struggles well; let us do the ground work for you by providing some curated options for your needs. This is our thing and we love doing it! Please reach out and get in touch, we would love to provide you with real and customised service to save you time and meet your needs. 
Contact us: 
e: enquiries@eclectichouse.com.au
t: 02 6721 0370
We are also size inclusive, offering embrace/plus size clothing up to size 26 and petite sizes too - XXXS / size 4 in ladies.