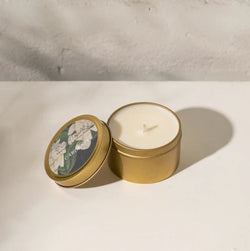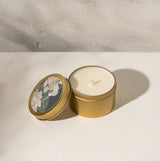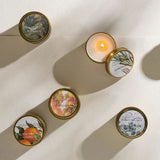 Inartisan Hand Poured Soy Candle in Brass Tin - Gardenia
Hand poured Soy Candles made in Australia by Inartisan using only the finest quality natural, sustainable and non-GM soy waxes. Natural Wicks.
Burn time 20 hours +
Dimensions: 7 x 7 x 4.7 cm
Caring for you Soy Candle:
When using your Soy Candle for the first time, do not extinguish the candle until the wax melts across entire surface to the sides of the vessel (this will help prevent tunnelling and creates an even burn for the duration of the candle's 'life') Depending on your environment, this may take anywhere from 2-4 hours.
Trim the wick to 5 mm before each burn. (Super important!) This will promote an even burn, steady flame and will help limit sooting/mushrooming of wick.
If soot forms on the inside of your vessel, simply extinguish your candle and wait for it to cool. Then wipe with a clean damp cloth or paper towel. Trim the wick before your next burn. Eliminate draughts from your environment where possible. Draughts decrease burn time, cause uneven burning, increased smoking and diminish scent throw.
Efficient burning means flame is not flickering, is teardrop shaped and standing upright. If your candle begins to smoke, flicker or the flame becomes too high; extinguish your candle at once. These signs indicate the candle is not burning properly and the flame isn't controlled. Let your candle cool, trim the wick, then check for draughts before re-burning.
Maximise your scent throw by keeping windows and doors closed. Always store your Soy Candle in a cool, dark and dry place. Avoid placing your Soy Candle where it will be directly exposed to the sun or harsh indoor illumination. Exposure to these may cause discolouring of your candle as many fragrances are light sensitive.
Want to know more? We understand how tricky online shopping can be...... and what looks great on a size 4, 10 foot amazon lady model doesn't always convert to real bodies. So what we can offer are some real bodies.  We are a small team of mums and a token hot grandma and range from size 6 - 22.
If you're second guessing a fit, one of us will be in your size range and can try it on and send you photos. Let us know what you are looking for in a garment and we can give you direction with cuts and styling to best suit your needs.
Not sure? We don't want you to be left with anything you don't 100% love, live in and rave to your friends about. So if it's not quite right send it back. We will look after you and offer quick exchanges or full refunds for all online purchases. Happy customers mean the world to us. 
The struggle: We understand that everybody's different and we get the battles that go along with finding longer length sleeves and pants for tall ladies. On the shorter side we understand how it is trying to find tops that aren't too long. We know these struggles well; let us do the ground work for you by providing some curated options for your needs. This is our thing and we love doing it! Please reach out and get in touch, we would love to provide you with real and customised service to save you time and meet your needs. 
Contact us: 
e: enquiries@eclectichouse.com.au
t: 02 6721 0370
We are also size inclusive, offering embrace/plus size clothing up to size 26 and petite sizes too - XXXS / size 4 in ladies.