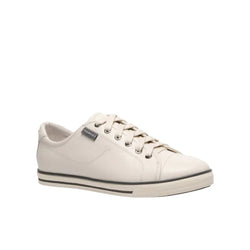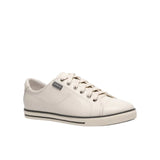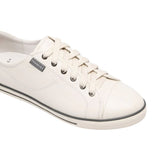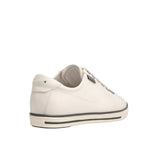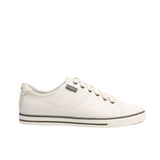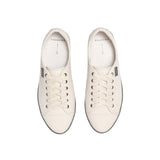 Frankie4 Nat III - Chalk Tumbled
Frankie4's number one sneaker just keeps getting better—introducing Nat in versatile Chalk Tumbled. Featuring an innovative support and cushion system and luxe leather details, Nat lends signature style and elevated comfort to each step and every look. For a custom approach to styling, this best-selling pair has an elastic gusset that enables them to be worn with or without laces—you can also customise yours with our array of laces in recycled cotton, statement prints, and shimmering satins.
Fabrication: Leather upper, footbed cover and lining with specifically placed rPET foam lining - made from recycled plastic bottles - to alleviate pressure and rubbing on the skin | Laces made with recycled cotton.
Features:
Sole Hero™ Support Footbed – Podiatrist designed | adjustable:

HEEL, ARCH & FOREFOOT SUPPORT.

Triple Layer Support & Cushion System designed to help prevent and alleviate common foot pain symptoms.

Lightweight, supportive clouds under your feet. Our Podiatrist designed dual density moulded sneaker soles are free of steel shanks and heavy materials.

Slip resistant sole*.

Sole Saver Pack™**: enabling a regular, wide or narrow fit with our clever pack included in the box. Customise the fit to each foot.

"Goldilocks" heel counter - not too firm, not too flimsy.

Elastic gusset: wear with or without laces


*This style meets and/or exceeds the slip resistance test ISO 13287:2019 (SRC). Please note that while they are slip resistant, they are not completely slip-proof. Please use general caution as you would in any other shoe. **Our Sole Saver Pack™ includes a full-length Sole Hero™ Support Footbed, a half-length Sole Hero™ Support Footbed, and forefoot cushions.
All FRANKIE4 styles are based on standard US sizing. Find your perfect fit with the tools below:
This is a basic guide to measuring your feet. There are other variables that affect fit which will impact sizing.
Place your largest foot up on a piece of paper against a wall.
Mark a line where your longest toe ends.
Measure the length of your foot and find your size in the table above.
Frankie4 Footwear was founded in 2011 and is dedicated to creating stylish, comfortable and supportive shoes for women. The brand is known for its unique designs, quality materials and superior comfort.  Frankie4 shoes are designed to provide support and cushioning for the feet, while still being fashionable and stylish and offer a wide range of styles, from sandals and sneakers to dress shoes and boots.
Want to know more? We understand how tricky online shopping can be...... and what looks great on a size 4, 10 foot amazon lady model doesn't always convert to real bodies. So what we can offer are some real bodies.  We are a small team of mums and a token hot grandma and range from size 6 - 22.
If you're second guessing a fit, one of us will be in your size range and can try it on and send you photos. Let us know what you are looking for in a garment and we can give you direction with cuts and styling to best suit your needs.
Not sure? We don't want you to be left with anything you don't 100% love, live in and rave to your friends about. So if it's not quite right send it back. We will look after you and offer quick exchanges or full refunds for all online purchases. Happy customers mean the world to us. 
The struggle: We understand that everybody's different and we get the battles that go along with finding longer length sleeves and pants for tall ladies. On the shorter side we understand how it is trying to find tops that aren't too long. We know these struggles well; let us do the ground work for you by providing some curated options for your needs. This is our thing and we love doing it! Please reach out and get in touch, we would love to provide you with real and customised service to save you time and meet your needs. 
Contact us: 
e: enquiries@eclectichouse.com.au
t: 02 6721 0370
We are also size inclusive, offering embrace/plus size clothing up to size 26 and petite sizes too - XXXS / size 4 in ladies.