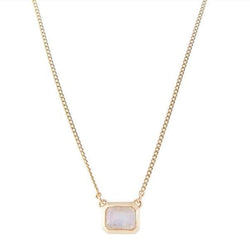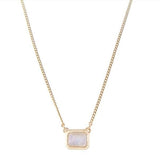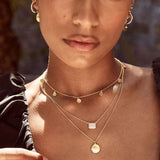 Fairley Rainbow Moonstone Deco Necklace
The delicate Fairley Rainbow Moonstone Deco necklace adds luxe to an everyday outfit. Features a stunning peridot framed in sterling silver 18k gold plate. Is adjustable in length so perfect as a hero piece or layered back with your other favourite necklaces. 
Details:
45 cm / drop 22.5 cm
42 cm  / drop 21 cm
40 cm  / drop 20cm
Peridot 6 x 8 mm
Sterling silver 24k Italian gold plate
Matte finish
Curb chain
Fairley designs are inspired from world travels, ancient history and different cultures. Using old world jewellery-making techniques to give Fairley jewellery its distinctive textured finishes, some Fairley pieces are individually hand-hammered to give an authentic Middle-Eastern aesthetic whilst others have a matte brushed metal finish to give a lush, creamy texture.
Using only 18 & 24k sterling silver and 18 & 24k Italian gold plate, each Fairley gem is handpicked for its individual beauty from merchants around the world.
We love that Fairley is committed to the ethical sourcing of its products and works closely with suppliers and manufacturers, ensuring strict codes of conduct relating to business behaviours and human rights are adhered to.  In line with it's continued focus of developing environmentally conscious products, almost every piece of Fairley jewellery is handcrafted using recycled silver.