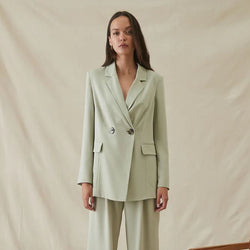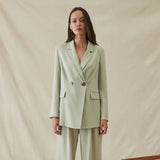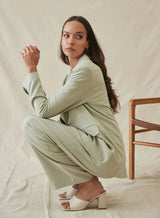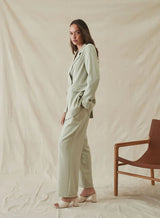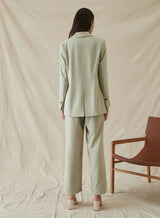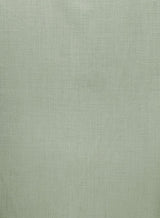 Esmaee Villa Blazer - Soft Mint
Elevate your style with the Esmaee Villa Blazer in soft mint. Crafted from a lightweight fabric, this blazer is designed to provide comfort and class. A subtle hue of soft mint makes this the perfect piece for any occasion, while a tailored fit ensures a sleek silhouette. Elevate your wardrobe with this luxurious blazer and pair with the Esmaee Villa Pants for a coordinated look.
Fabric: 51% Viscose 46% Polyester 3% Spandex Lining: 100% Polyester
Features:
• Esmaee Villa Blazer
• Lightweight green fabrication
• Shoulder pads
• Collared neck
• Button opening
• Long sleeve
• Front flap pockets
• Mindfully created
• Hip length
• Fully lined

Fit: Model height: 180cm / 5' 9in | Model wears size XS
SIZE
XXS
XS
S
M
L

AU

6
8
10
12
14

US

2
4
6
8
10

UK

4
6
8
10
12

BUST (CM)

82
87
92
97
102

WAIST (CM)

66
71
76
81
86

HIPS (CM)

90
95
100
105
110
HOW TO MEASURE
1. BUST - Measure around your chest at the fullest part of your bra cup.
2. WAIST - Measure around the smallest part of your waistline. You will find it above your navel and below your rib cage.
3. HIPS - Measure 20cm down from the natural waistline.
For best fit we recommend referring to individual product details for sizing as fit of certain garments may vary. 
Want to know more? We understand how tricky online shopping can be...... and what looks great on a size 4, 10 foot amazon lady model doesn't always convert to real bodies. So what we can offer are some real bodies.  We are a small team of mums and a token hot grandma and range from size 6 - 22.
If you're second guessing a fit, one of us will be in your size range and can try it on and send you photos. Let us know what you are looking for in a garment and we can give you direction with cuts and styling to best suit your needs.
Not sure? We don't want you to be left with anything you don't 100% love, live in and rave to your friends about. So if it's not quite right send it back. We will look after you and offer quick exchanges or full refunds for all online purchases. Happy customers mean the world to us. 
The struggle: We understand that everybody's different and we get the battles that go along with finding longer length sleeves and pants for tall ladies. On the shorter side we understand how it is trying to find tops that aren't too long. We know these struggles well; let us do the ground work for you by providing some curated options for your needs. This is our thing and we love doing it! Please reach out and get in touch, we would love to provide you with real and customised service to save you time and meet your needs. 
Contact us: 
e: enquiries@eclectichouse.com.au
t: 02 6721 0370
We are also size inclusive, offering embrace/plus size clothing up to size 26 and petite sizes too - XXXS / size 4 in ladies.