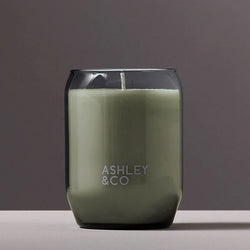 Ashley & Co Waxed Perfume - Parakeets & Pearls
Waxed Perfume is Ashley & Co's unique name for a candle. Inspired by each of their signature scents, these candles tell their own story. They are individually hand poured in New Zealand using 100% natural wax and an unbleached cotton wick. Crafted to perfection, Waxed Perfume delivers, giving up to 50 hours of burn time.
Size: 310g | A&C Hand Blown Jar, White Wax

Each piece is unique, when preparing vessel for re-use, hand washing is recommended
Scent:
Green Tea
White Lilly
Orange Rind
Lime
Cardamon
Cypriol Spice
Scent Description
Remember handwritten love letters and dressing for dinner? No? This Old World scent of freshly picked Green Tea and White Lilies will help bring the glamour back to modern day.
Scent Profile
Lily, Cardamon and Tea, with A floral spicy accord, is accentuated by the spring like top notes of Citrus Lime, Orange Rind and Bergamot.
Ingredients: 100% Natural Wax sourced from a sustainable plantation, Parfum
Want to know more? We understand how tricky online shopping can be...... and what looks great on a size 4, 10 foot amazon lady model doesn't always convert to real bodies. So what we can offer are some real bodies.  We are a small team of mums and a token hot grandma and range from size 6 - 22.
If you're second guessing a fit, one of us will be in your size range and can try it on and send you photos. Let us know what you are looking for in a garment and we can give you direction with cuts and styling to best suit your needs.
Not sure? We don't want you to be left with anything you don't 100% love, live in and rave to your friends about. So if it's not quite right send it back. We will look after you and offer quick exchanges or full refunds for all online purchases. Happy customers mean the world to us. 
The struggle: We understand that everybody's different and we get the battles that go along with finding longer length sleeves and pants for tall ladies. On the shorter side we understand how it is trying to find tops that aren't too long. We know these struggles well; let us do the ground work for you by providing some curated options for your needs. This is our thing and we love doing it! Please reach out and get in touch, we would love to provide you with real and customised service to save you time and meet your needs. 
Contact us: 
e: enquiries@eclectichouse.com.au
t: 02 6721 0370
We are also size inclusive, offering embrace/plus size clothing up to size 26 and petite sizes too - XXXS / size 4 in ladies.