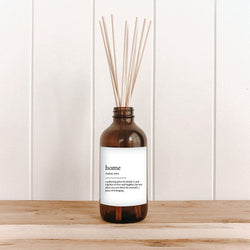 The Commonfolk Room Diffuser - Home
We love The Commonfolk's Dictionary Meaning range. We think they are a little bit special and look super cool styled back with our Photography candles.
As they say - home is where the heart is!  
"home - a gathering place for family to join together in love and laughter. the one place you can always be yourself. a place of belonging."
The Commonfolk's 220ml Room Diffusers are filled with the highest quality diffuser base blended with our Australian made fine fragrances oils and enriched with essential oils. This diffuser is The Commonfolk's signature scent Morocco which contains hints of sage, saffron and amber.
Extinguishing good vibes 24 hours a day! 
 Enjoy up to 6 Months of bliss.