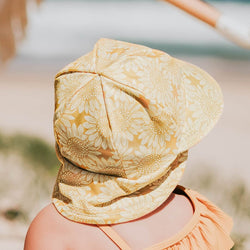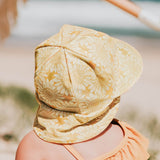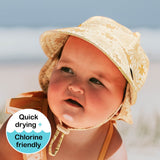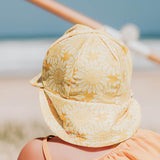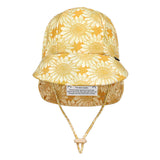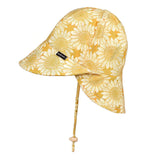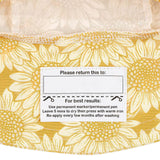 Bedhead Kids Swim Legionnaire Beach Hat - Sunflower
The Bedhead Swim Legionnaire hats are so soft and comfortable over the ears and back of the neck making them a perfect baby swim hat.
Also available in stripe.
Fabric: Made from 100% PBT Nylon stretch knit
Features: 
Chlorine resistant fabri c – pool friendly
Rated UPF50+ Excellent Protection
Tested in accordance with Australia & New Zealand Standards 4399
Sun-Smart recommended brim depths (see tab below for measurements)
Wash & Wear - gentle cold machine wash and line dry in the shade

'Return to' label to help hats get home safely
Stretch chin strap with adjustable toggle
Bedhead swim hats are made of high quality chlorine resistant stretch nylon knit with quick drying ability. Swim hats are best for use in a wet environment - at the beach, lake, swimming pool or splashing about under the hose! If you are looking for a hat for everyday use - Bedhead always encourages using their Cotton hats instead (which encompasses all Bedhead hats excluding their range of Swim Hats). A cotton rich hat will be much cooler for everyday use.
IDEAL FOR: Babies, crawlers and toddlers still taking naps, being held a lot and not very mobile yet.
Want to know more? We understand how tricky online shopping can be...... and what looks great on a size 4, 10 foot amazon lady model doesn't always convert to real bodies. So what we can offer are some real bodies.  We are a small team of mums and a token hot grandma and range from size 6 - 22.
If you're second guessing a fit, one of us will be in your size range and can try it on and send you photos. Let us know what you are looking for in a garment and we can give you direction with cuts and styling to best suit your needs.
Not sure? We don't want you to be left with anything you don't 100% love, live in and rave to your friends about. So if it's not quite right send it back. We will look after you and offer quick exchanges or full refunds for all online purchases. Happy customers mean the world to us. 
The struggle: We understand that everybody's different and we get the battles that go along with finding longer length sleeves and pants for tall ladies. On the shorter side we understand how it is trying to find tops that aren't too long. We know these struggles well; let us do the ground work for you by providing some curated options for your needs. This is our thing and we love doing it! Please reach out and get in touch, we would love to provide you with real and customised service to save you time and meet your needs. 
Contact us: 
e: enquiries@eclectichouse.com.au
t: 02 6721 0370
We are also size inclusive, offering embrace/plus size clothing up to size 26 and petite sizes too - XXXS / size 4 in ladies.