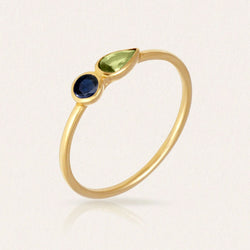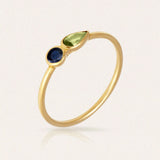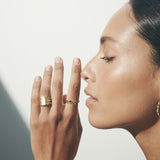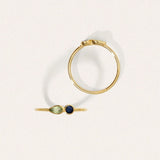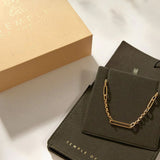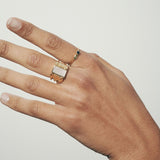 Temple of the Sun Melita Ring - Gold
The Melita Ring from Temple of the Sun is an 18k gold vermeil stacking ring featuring blue sapphire and pear-shaped peridot. The simplicity of the polished band draws the eye to the duo of gemstones.

Melita is a Greek name meaning 'calm'. The celestial blue of the sapphire mirrors the night sky, a vast expanse of cosmic stillness that we can reflect upon to create spaciousness in our own life. When paired with peridot, this combination evokes a sense of peaceful positivity.
The Melita Ring creates a moment of spaciousness from where we can access our inner tranquillity.
Stone Properties
Blue Sapphire is a precious gemstone associated with wisdom, knowledge and insight. Considered sacred across many cultures, its celestial blue hues mirror the night sky. Forever associated with loyalty and commitment, sapphires are traditionally used as a loving expression of devotion.

Peridot has been used in jewellery by the ancient Egyptians, Greeks and Romans who revered this gemstone as a symbol of the Sun. Peridot radiates feelings of inner warmth, wellbeing and positivity.
Jewellery Care
Temple of the Sun rings are some of our favourite pieces and being on our hands exposes them to the most wear and tear. To ensure the gold lustre remains golden and bright it is important to remove your rings each time we hand sanitise, apply makeup, cosmetics, shower, swim and even cook. Gold vermeil, like all non-solid gold, is designed to fade over time so our beloved rings need the most attention and care out of all.
Fabrication: Our Gold Vermeil jewellery is hand-made from ethically sourced 925 Silver, finished with a high quality 2.5 Micron thick layer of 18K Gold plate ensuring the rich gold lustre is retained longer. 
Fit:
INTERNAL DIAMETER (MM)
14.1
14.9
15.7
16.5
17.3
18.1
19
19.8
20.6
21.4
22.2
US/CANADA RING SIZE
3
4
5
6
7
8
9
10
11
12
13
UK/AUSTRALIA RING SIZE
F
H
J
L
N
P
R
T
V
X
Z
Want to know more? We understand how tricky online shopping can be...... and what looks great on a size 4, 10 foot amazon lady model doesn't always convert to real bodies. So what we can offer are some real bodies.  We are a small team of mums and a token hot grandma and range from size 6 - 22.
If you're second guessing a fit, one of us will be in your size range and can try it on and send you photos. Let us know what you are looking for in a garment and we can give you direction with cuts and styling to best suit your needs.
Not sure? We don't want you to be left with anything you don't 100% love, live in and rave to your friends about. So if it's not quite right send it back. We will look after you and offer quick exchanges or full refunds for all online purchases. Happy customers mean the world to us. 
The struggle: We understand that everybody's different and we get the battles that go along with finding longer length sleeves and pants for tall ladies. On the shorter side we understand how it is trying to find tops that aren't too long. We know these struggles well; let us do the ground work for you by providing some curated options for your needs. This is our thing and we love doing it! Please reach out and get in touch, we would love to provide you with real and customised service to save you time and meet your needs. 
Contact us: 
e: enquiries@eclectichouse.com.au
t: 02 6721 0370
We are also size inclusive, offering embrace/plus size clothing up to size 26 and petite sizes too - XXXS / size 4 in ladies.