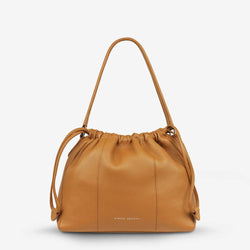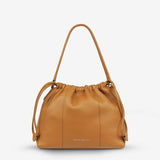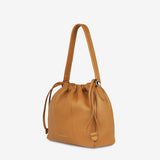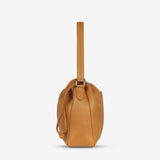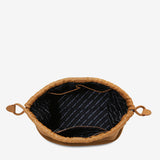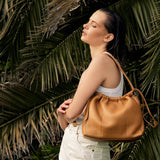 Status Anxiety Point Of No Return Leather Handbag - Tan
If you were ever at a critical point at which no turning back was possible you would want the 'Point of No Return' leather handbag from Status Anxiety by your side. With its super comfortable padded shoulder strap, back magnet closure pocket for your phone and effortless drawstring closure... it's the perfect bag for the sojourn that lies ahead.
Features:
Soft shrunken pebble leather
Outside back magnet close slider pocket
Internal zip pocket, open and phone pockets
Comfortable padded shoulder strap (drop 24cm)
31cm w x 24cm h x 14cm d
Comes in a Status Anxiety soft material drawstring bag
Care:
This soft Brazilian Shrunken Pebble leather has a luxuriously soft hand feel and features the natural variation of the leather characteristics and grain. We recommend using a leather protectant to provide extra protection from staining and water damage.
We recommend using our Leather Protectant to prevent staining and to lengthen the life of your gear.
Wipe your leather with a damp cloth (warm soapy water) every couple of months to keep your leather looking its best (don't use baby wipes, vinegar, etc.) Try to avoid greasy hands (or recently applied hand cream) coming into contact with your leather. Avoid excessive rubbing of light leather on dark clothing (jeans etc) to avoid colour transfer onto the leather.
It's also best to avoid leaving leather for long periods in direct sunlight as it can cause the colour to fade and the leather to dry out. When not in use, keep your bag stuffed in its dust bag or box.
Want to know more? We understand how tricky online shopping can be...... and what looks great on a size 4, 10 foot amazon lady model doesn't always convert to real bodies. So what we can offer are some real bodies.  We are a small team of mums and a token hot grandma and range from size 6 - 22.
If you're second guessing a fit, one of us will be in your size range and can try it on and send you photos. Let us know what you are looking for in a garment and we can give you direction with cuts and styling to best suit your needs.
Not sure? We don't want you to be left with anything you don't 100% love, live in and rave to your friends about. So if it's not quite right send it back. We will look after you and offer quick exchanges or full refunds for all online purchases. Happy customers mean the world to us. 
The struggle: We understand that everybody's different and we get the battles that go along with finding longer length sleeves and pants for tall ladies. On the shorter side we understand how it is trying to find tops that aren't too long. We know these struggles well; let us do the ground work for you by providing some curated options for your needs. This is our thing and we love doing it! Please reach out and get in touch, we would love to provide you with real and customised service to save you time and meet your needs. 
Contact us: 
e: enquiries@eclectichouse.com.au
t: 02 6721 0370
We are also size inclusive, offering embrace/plus size clothing up to size 26 and petite sizes too - XXXS / size 4 in ladies.