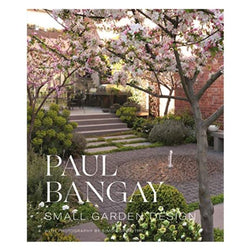 Small Garden Design by Paul Bangay
Paul Bangay is renowned for the expansive and elegant gardens with classical lines and symmetrical plantings that he has created in Australia and all over the world. Yet gardens on this grand scale are not accessible to everyone. With more of us living in apartments, townhouses and terraces, our gardens are now being squeezed into small spaces such as balconies, courtyards, lightwells or rooftops – and this makes for challenging garden design. In Small Garden Design, Paul applies his 25 years of experience with gardens of all sizes to reveal how best to structure, design and choose plants for small spaces. Chapters on Balconies & Terraces, Rooftops, Inner City, Lightwells and Courtyards are lavishly illustrated with photos by Simon Griffiths and enhanced with lots of practical tips on plant types, paving, irrigation, soil, outdoor dining, lighting and making the space appear larger. In this accessible and practical book, Paul shows us 'how to make the most of the small space you have, and how to transform it into the paradise that we all aspire to'.
Features:

Want to know more? We understand how tricky online shopping can be...... and what looks great on a size 4, 10 foot amazon lady model doesn't always convert to real bodies. So what we can offer are some real bodies.  We are a small team of mums and a token hot grandma and range from size 6 - 22.
If you're second guessing a fit, one of us will be in your size range and can try it on and send you photos. Let us know what you are looking for in a garment and we can give you direction with cuts and styling to best suit your needs.
Not sure? We don't want you to be left with anything you don't 100% love, live in and rave to your friends about. So if it's not quite right send it back. We will look after you and offer quick exchanges or full refunds for all online purchases. Happy customers mean the world to us. 
The struggle: We understand that everybody's different and we get the battles that go along with finding longer length sleeves and pants for tall ladies. On the shorter side we understand how it is trying to find tops that aren't too long. We know these struggles well; let us do the ground work for you by providing some curated options for your needs. This is our thing and we love doing it! Please reach out and get in touch, we would love to provide you with real and customised service to save you time and meet your needs. 
Contact us: 
e: enquiries@eclectichouse.com.au
t: 02 6721 0370
We are also size inclusive, offering embrace/plus size clothing up to size 26 and petite sizes too - XXXS / size 4 in ladies.