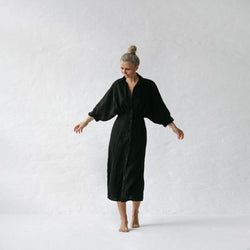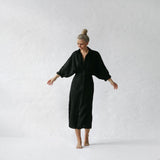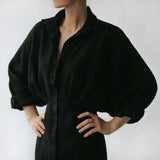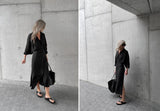 Seaside Tones Nea Linen Dress - Black
The Seaside Tones Nea Linen dress in white is made from 100% soft Baltic linen.
Fabric: 100% linen
Fit:
Measurements (+/- 3cm)
Size M: Lenght: 46" (117 cm), Bust: 34-38" (88-99 cm), Waist: 26-30" (68-76 cm), Hips: 93-97cm

Size L: Lenght: 46" (118 cm), Bust: 37-40" (96-106 cm), Waist: 30,5-32,5" (76-83 cm), Hips: 97-100cm
Model is 164 cm tall and wearing size S
Seaside Tones, following great success in Europe, is coming to Australia. The label was established in 2015 by creative duo Anna Rutkowska and Michal Rutkowski.
Seaside Tones Australia is a proudly family owned and operated business.
Seaside Tones delivers a unique collection of minimalist and simple wardrobe items in a neutral colour palette. All pieces are designed by Anna.
Our linen is pre washed which means it is soft and drapes beautifully.
Seaside Tones Australia is proud to present this modern collection with a strong focus on comfort.
All pieces are ethically made in Poland. At the heart of the label is the highest quality pure Polish linen. All fabrics are organic, coloured without harmful chemicals and produced in safe and fair conditions.
Want to know more? We understand how tricky online shopping can be...... and what looks great on a size 4, 10 foot amazon lady model doesn't always convert to real bodies. So what we can offer are some real bodies.  We are a small team of mums and a token hot grandma and range from size 6 - 22.
If you're second guessing a fit, one of us will be in your size range and can try it on and send you photos. Let us know what you are looking for in a garment and we can give you direction with cuts and styling to best suit your needs.
Not sure? We don't want you to be left with anything you don't 100% love, live in and rave to your friends about. So if it's not quite right send it back. We will look after you and offer quick exchanges or full refunds for all online purchases. Happy customers mean the world to us. 
The struggle: We understand that everybody's different and we get the battles that go along with finding longer length sleeves and pants for tall ladies. On the shorter side we understand how it is trying to find tops that aren't too long. We know these struggles well; let us do the ground work for you by providing some curated options for your needs. This is our thing and we love doing it! Please reach out and get in touch, we would love to provide you with real and customised service to save you time and meet your needs. 
Contact us: 
e: enquiries@eclectichouse.com.au
t: 02 6721 0370
We are also size inclusive, offering embrace/plus size clothing up to size 26 and petite sizes too - XXXS / size 4 in ladies.